Discover Scuba Diving course in your private swimming pool in Spain
Would you like to try diving but you are afraid to do it the first time in the sea? Don't worry, Black Frog Divers has the right solution for you!
Many times, we have people coming in our shop in Torrox Costa and asking for Discover Scuba Diving program and sometimes we find out that what stop this people on trying, is the sea.
The idea to try diving for the first time in a different environment, stop the joy of try something amazing like breathing underwater. In the sea there are animals, particles, current, sand, salt and all that can be disturbing. We perfectly understand!
That is why, Black Frog Divers thought about the perfect solution for you.
If Mohammed will not go to the mountain, the mountain must come to Mohammed!!
If you have a swimming pool in your house, holiday rental here in Spain, close to our area, we will more than happy to drive to your place and make your experience private and comfortable at home. WITH NO EXTRA CHARGES!!
The Discover Scuba Diving Course in the swimming pool, it is done in the same process as in the sea.
The instructor will do a rich briefing outside the water: explaining the equipment, the rules to follow, the signals, what to do and what NOT to do during your dive. He will answer to all your questions and make sure you have everything clear before getting  into the water.
The skills are the same 4 basic skills you have to learn and master during your Discover Scuba Diving Course. After that, you are free to do and swim around your swimming pool in complete safety and freedom. You will discover very soon than, that Scuba diving is easy and  fun. Your next question than will be:
"What can  I do next? Can we do that again in the sea?!" – Of course you can!
You can book your dive straight after the DSD course. You will discover than what real scuba diving is, swimming in the Open Water.
The instructor will be with you at all time, keep explaining, answering and showing that is the most safe and fun way to dive!
Where else you can find a Scuba dive centre, willing to do so much for you?!
Below you can have a look at our Discover Scuba Diving Course & lesson in Cortijo Amaya swimming pool with Rachel and Monty Rennoldson. A great success!
Do not be shy, tell us what are your concerne about your first time into the water as a diver, and we will find the right solution for you!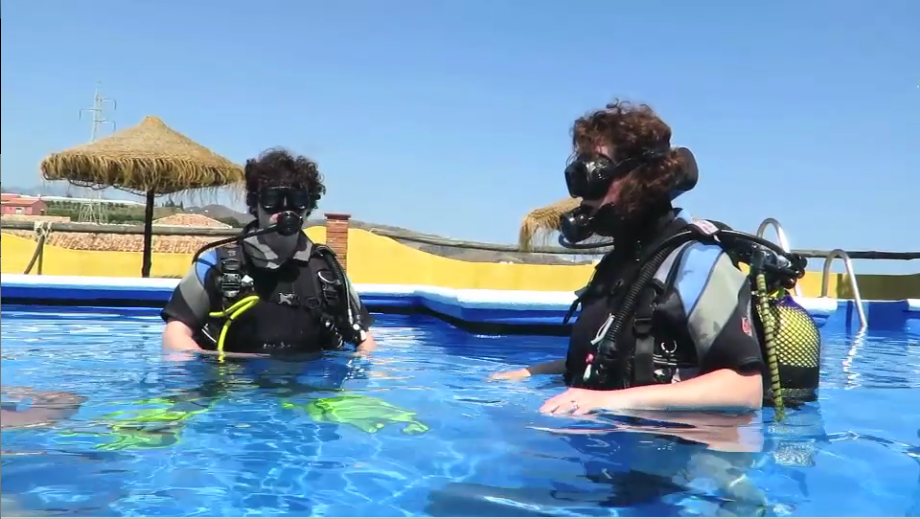 https://www.blackfrogdivers.com/wp-content/uploads/2015/05/Try-diving-in-your-swimming-pool-in-Spain.png
519
920
Sara
https://www.blackfrogdivers.com/wp-content/uploads/2015/05/Black-Frog-Divers_logo_diving-school_spain41.png
Sara
2015-05-28 11:53:43
2017-11-06 01:22:13
Discover Scuba Diving course in your private swimming pool in Spain